Ehlers Danlos, Fibromyalgia, POTS, & MCA Collect Them All {Invisible Illness Podcast}
Invisible Illness: Which one do I qualify as sick? Also, a little window into my daily world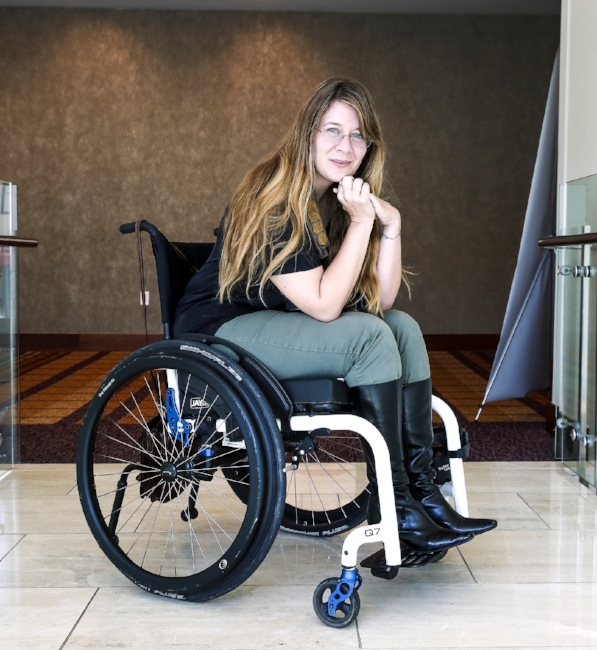 Every time I rattle off my disorders I almost have to count them off on my fingers. Did I forget one? Would it even matter when they all fall under the umbrella of ok no you're not crazy, no cure, and wow that's really a thing? I will leave links at the bottom if you would like to know more about the wonderfully creative ways my body attempts to make itself into modern sculpture.
This is my interview. It is candid and though I am writing this before recording I am guessing littered with swear words. If I have to live like this, be inspiring, be funny, and do all of the other things I need to I get to lean on my favorite four letter word. If this is offensive to you please know that being in constant pain every day is offensive to me.
If You Want To Know More About My Disorders
Thank you so much for listening. Please share with a friend and don't forget to leave a kind if not glowing review on ITunes.
Until next time
Be Kind. Be Gentle. Be a Bad Ass.
Monica Michelle
I became symptomatic at 8 and have gone through different levels of disability and surgeries from my teens to going on disability in my late 30's.
1. Who were you before your illness became debilitating?
I think I am lucky. I have been in chronic pain my entire life so I was never completely someone else. I don't have a memory of being healthy or not in pain. I was a ballerina, a teacher, a jeweler, and a photography studio owner. I am and always will be a storyteller and an artist. I do miss being a photographer. I miss being a part of the community of women in business in the silicon valley. I desperately miss traveling. I miss bike rides. I miss being able to plan. I very much miss hiking and bike riding. I miss walking around Pescadero with my kids. I miss being able to take myself to Drs. Appointments or taking the dogs out. That was the person I used to be before this disorder became impossible to hide.
2. Is there anything you would do if you were not sick?
This is a hard one. I would still be a photographer. I would still be living across the Bay. I don't know if either of those things would be good for me. If I wasn't sick I would ride my bike again. I would travel. I would have liked to have become an art teacher for High School. I have binders full of business plans for non-profits I would have loved to have the energy to run.
3. What should other people know about our daily life?
It changes minute to minute. My heart rate can plummet or race. I can be walking normally and in the next step my hip can dislocate and I won't be able to walk for a long time. I search for words. I am smarter than I can articulate. Moving in healthy world is X Games for me. In my wheelchair I get dumped on the ground thanks to roots, people stopping suddenly in front of me, and poor city planning with ramps that are only for the truly adventuress.
4. What would make living and moving in the world easier for you?
If BART would make sure their elevators worked and were clean (whatever is on the ground will end up on my hands). If you see someone in a wheelchair and you are crossing the street don't cross right in the middle of the ramp. That is where it is flattest. That's the part I need. If I am struggling please come by, say hello, offer to help. I know this isn't an everyone thing but it is a me thing. I have trouble balancing everything with my canes or opening doors with my wheelchair.
5. Life hacks?
My IPadPro is my world. It is my extra brain. With the pencil, I have an unending source of paper to write my ideas down. I use fiverr for technical things I don't know how to do. I use TaskRabbit for physical things. My sticks are my favorite way to get around. Mine have been discontinued but these look pretty good. Send me a review if you like them.
6. Support from family or friends?
I am beyond privileged and lucky in this department. My mother has helped me with everything. I would like to underline everything. I get worse as the day goes on and she picks up my children from school most days. She takes me to my doctor's appointments. My husband does most housework and cooking. My children have really stepped up helping with chores. I made a shelf on the refrigerator that has microwave meals on it that the kids can get to. I am trying to get better at asking friends to come over.
7. Do you find that people do not believe you are sick because of your appearance?
I am lucky. I use canes and wheelchair when I am doing badly and it is hard to ignore a bone sticking out of my wrist or the shoulder pushed forward so I don't often have these moments. I have had a woman rush up and glare at me pointing to the handicap sign and back at me while I was waiting for my daughter to bring my canes. She had the good grace to just walk away.
8. How has this affected your relationships?
I lost a lot of friendships when I stopped working. I think I scared people who were my age running businesses in the Silicon Valley. No one expects you to retire at 38. I was fortunate that my husband was my best friend for 3 years before we got married so he had already seen a picture of what for better or worse would be. I had people I had been in relationships leave because I was sick so it was probably the only way I would have ever gotten married again was knowing that he had already seen some of the worst and was still all in.
9. What are you afraid to tell even the people closest to you?
I'm lonely. I'm fucking terrified each time things get bad that this will be the new normal. That I can get so depressed I feel like I'm drowning. I'm scared I am scaring my children. I HATE disappointing people or my animals. It takes almost nothing to push me into guilt or into doing something I really shouldn't be just because I don't want to inconvenience them. I will agree with you or change the subject if an argument goes beyond my ability to pay attention or to keep standing or sitting.
10. Does the fact that your disease is invisible change how healthcare professionals treat you?
Yes, I spent most of my teens being told I was crazy. I was told I was nervous. That I was depressed and overreacting. If a doctor can't pin something on a disease they will usually pin the fault on the patient.
11. Best coping mechanism?
My dogs. My cats when they aren't evil or when they are. Drawing, when I can. Reading when the book is great. The rare days I can bike ride are magic. Scrolling on Pinterest needs to be reclassified as transcendental meditation. Talking with my son. Curling up with my daughter. Laying next to my husband watching our next ok just one more episode show.
12. Favorite swear word?
FUCK. It is versatile and no word feels the same level of expression and relief when shouted.
13. What are you the most fearful of and what are you the most hopeful for in the future?
I am fucking terrified I won't travel out of the country. I am terrified I won't make my own money again.That my children will blame or resent me. That life will pass me by while I sit in bed waiting for a bone to come home or for my heart to stop its' jazz improv. I am scared I will get worse. That I will have to give more ground.
Hopeful isn't much in my wheelhouse tonight. I wish it was. I wish I could say something fabulous and witty that would soften all the dark I wrote but when I began this podcast I decided on complete honesty. I am feeling sad and dark right now. Maybe if I wrote this last week or even tomorrow I would have a bright answer for this but I am writing this now and now I am not feeling it.
Links To Some Of My Favorite Things
Shameless Plug For My New Bedtime Story Book!